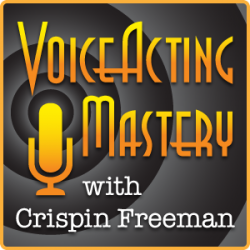 VAM 043 | Interview with Juan Carlos Bagnell, Commercial VO Casting Director, Part 3
Welcome to episode 43 of the Voice Acting Mastery podcast with yours truly, Crispin Freeman!
As always, you can listen to the podcast using the player above, or download the mp3 using the link at the bottom of this blog post. The podcast is also available via the iTunes Store online. Just follow this link to view the podcast in iTunes:
http://www.voiceactingmastery.com/podcast
This is the final part of my interview with my good friend and commercial voice over casting director, Juan Carlos Bagnell. You can find more of his insights on his blog at www.someaudioguy.com.
To wrap up our discussion Juan explains how to handle seemingly contradictory directions when voice acting in commercials. He stresses the importance of working with what's actually in the copy and not trying to second guess what you think the producers are looking for. He also explains how to take advantage of the current trend of using celebrities in voice over and how understanding the appeal of celebrity branding can help you position yourself as a voice actor. I'm sure you'll find it helpful!
Thanks for listening!
Download Voice Acting Mastery Episode #43 Here (MP3)