VAM 042 | Interview with Juan Carlos Bagnell, Commercial VO Casting Director, Part 2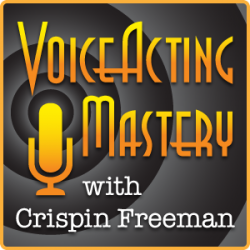 Welcome to episode 42 of the Voice Acting Mastery podcast with yours truly, Crispin Freeman!
As always, you can listen to the podcast using the player above, or download the mp3 using the link at the bottom of this blog post. The podcast is also available via the iTunes Store online. Just follow this link to view the podcast in iTunes:
http://www.voiceactingmastery.com/podcast
In this episode, I continue my interview with my good friend and commercial voice over casting director, Juan Carlos Bagnell. You can find more of his insights on his blog at www.someaudioguy.com. In this segment, we discuss some of the most common misconceptions about commercial voice over and how to avoid them. Including:
The "quality" of your voice is not as important as having a business mindset.
Does your plan for getting into voice over pass the "bank loan" test?
There is no sound bite solution to becoming successful in professional voice over.
Later, we talk about Juan's approach to teaching how to succeed in commercials, including his method of analyzing scripts and the importance of understanding the advertising mindset. It's very insightful!
Thanks for listening!
Download Voice Acting Mastery Episode #42 Here (MP3)