VAM 040 | Q & A Session 05 – Taking Direction & Marketing Your Voice Acting Skills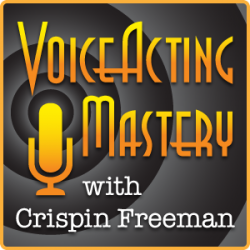 Welcome to episode 40 of the Voice Acting Mastery podcast with yours truly, Crispin Freeman!
As always, you can listen to the podcast using the player above, or download the mp3 using the link at the bottom of this blog post. The podcast is also available via the iTunes Store online. Just follow this link to view the podcast in iTunes:
http://www.voiceactingmastery.com/podcast
In this episode, I continue answering questions that my listeners have been leaving me on the podcast voicemail number. I've been getting so many good questions lately, that it seemed appropriate to go through a number of them. For those who don't know, in past episodes,  I've given out a phone number where you can call in and leave me a question as a voicemail. From time to time, I'll pick the most relevant questions I receive and answer them here on the podcast.
For this round of Q & A, I answer questions from Jelle Derckx of the Netherlands and Zach from Huntington Beach, CA.
Jelle wants to know what to do when things get awkward during a recording session. Sometimes a director will give a voice actor a note, the voice actor will do their best to incorporate that note into their next take and yet the director still seems to be unsatisfied. Worse yet, the director may seem to want the opposite of what they originally asked for. This is a common occurrence during a recording session so I share some helpful hints about how to get back on track. The secret is giving the director what they want, not what they ask for!
Zach wonders what's the best way to approach producers as an aspiring voice actor. Should you try to contact them directly via phone or e-mail? What kind of credits do you need on your resume before you approach producers? How do you maintain a professional demeanor when approaching potential employers for voice over work? I answer his question by explaining the professional mindset of a producer. Then, I explain how to make yourself indispensable to a producer so that they'll search you out for your unique talents and abilities!
I think you'll find this episode very helpful for developing a truly professional mindset.
As a reminder, the number where you can call in and ask your question is:
323-696-2655.
Please don't forget to include your first name and what city in the world you're calling from. I'm looking forward to hearing from you!
Thanks for listening!
Download Voice Acting Mastery Episode #40 Here (MP3)