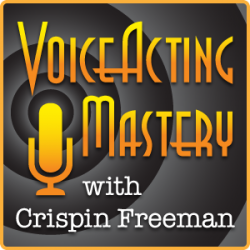 VAM 039 | Q & A Session 04 – Microphone Levels & Portable Recording Solutions
Welcome to episode 39 of the Voice Acting Mastery podcast with yours truly, Crispin Freeman!
As always, you can listen to the podcast using the player above, or download the mp3 using the link at the bottom of this blog post. The podcast is also available via the iTunes Store online. Just follow this link to view the podcast in iTunes:
http://www.voiceactingmastery.com/podcast
In this episode, I'm going to continue answering the questions that my listeners have been leaving me on the podcast voicemail number. I've been getting so many good questions lately, that it seemed appropriate to go through a number of them. For those who don't know, in past episodes,  I've given out a phone number where you can call in and leave me a question as a voicemail. From time to time, I'll pick the most relevant questions I receive and answer them here on the podcast.
For this round of Q & A, I answer questions from Christian of Glendale, AZ and Leigh of the Washington D.C. area.
Christian is having some challenges with the recording levels with his Blue Yeti USB microphone. I give him some suggestions on how to avoid peaking when recording more extreme sounds.
Leigh is not only a voice actress, but also works full time. She's looking for a high quality recording solution so she can submit auditions to pay to play sites like Voices.com and Voice123.com even when she doesn't have access to her home recording equipment. I give her some suggestions on what she can do to get the best possible recording quality while on the go.
In the podcast I recommend a number of different pieces of equipment and software. Below is a list of them with links where you can purchase them. You can also find them in the Toolbox Section of the website. I hope you find them useful!
For Christian's Question:
Shure PG-42USB Microphone – A more professional microphone than the Blue Yeti. The PG-42USB is a true large diaphragm microphone with a Pad Switch to allow you to have more control over the gain levels in your microphone.
For Leigh's Question:
Solution #1 – Laptop Recording:
Sennheiser MD 421 Dynamic Microphone – A broadcast standard and my personal travel microphone. Very rugged and great at rejecting room noise. Unfortunately the signal it produces requires a lot of preamplification. In order to drive the MD 421, I use a…
Avid ProTools MBox Mini USB Interface with ProTools Software – I've been using MBoxes as my portable recording solution for years. However, it does require you to use a laptop in order to record.
You will also need a small portable microphone stand. I like the Konig Meyer 231/1 Tripod Table Top Mic Stand.
You will also need an XLR cable to connect the microphone to the MBox Mini.
Solution #2 – iPad Recording:
Shure PG-42USB Microphone
+
Pluggable's Mini Powered USB Hub
+
Apple's Camera Connection Kit for Dock connectors or Apple's Lightning to USB Camera adapter
Here's the formula, I plug the PG-42USB into Pluggable's Powered USB Hub, connect the hub to either the Camera Connection Kit for older iPads or the Lightning to USB Camera adapter for newer iPads and then plug into the iPad.
You can then use any of these 3 recording apps: WavePad, GarageBand or TwistedWave.
If you absolutely must record without having access to an electrical outlet, the Apogee Mic or the Blue Spark Digital iPad microphones will also work, but they lack the low end warmth of the PG-42USB.
I hope you find my recommendations useful!
As a reminder, the number where you can call in and ask your question is:
323-696-2655.
Please don't forget to include your first name and what city in the world you're calling from. I'm looking forward to hearing from you!
Thanks for listening!
Download Voice Acting Mastery Episode #39 Here (MP3)