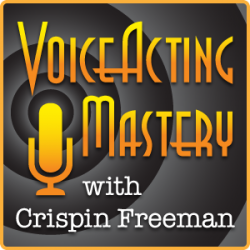 VAM 037 | How to Play Heroes in Voice Acting
Welcome to episode 37 of the Voice Acting Mastery podcast with yours truly, Crispin Freeman!
As always, you can listen to the podcast using the player above, or download the mp3 using the link at the bottom of this blog post. The podcast is also available via the iTunes Store online. Just follow this link to view the podcast in iTunes:
http://www.voiceactingmastery.com/podcast
In the last episode, I shared some helpful tips on playing villains in voice acting. I outlined 3 misconceptions about villains and then gave 3 guidelines for how to play them effectively. For this episode, I thought I would use the same format to show how to approach playing heroes in voice acting.
I've played a number of heroes in animation and video games, including the noble and sincere Superman in the Justice League: Heroes video game, the cocky and self-assured Iron Man in Marvel Ultimate Alliance 2 and even the brooding and distant Red Arrow in the animated series, Young Justice. So what does it take to play heroes well? Let's find out!
There are 3 common misconceptions about Heroes:
Misconception #1: One must adopt a heroic sounding voice in order to play a hero.
Misconception #2: Heroes are boring to play from an acting perspective because they lack sub-text or a complicated psychology.
Misconception #3: Heroes are so idealistic that they are hard to relate to emotionally. Also known as the Goody Two-Shoes syndrome.
I disprove these and instead give you 3 tools for creating believable heroes:
Technique #1: Determine what kind of hero you are playing.
Technique #2: Give yourself permission to be emotionally vulnerable.
Technique #3: A character becomes a hero if they truly believe in and aspire to their own highest ideals.
I go into great detail on each of these topics. I hope you enjoy the second half of the hero/villain equation!
Thanks for listening!
Download Voice Acting Mastery Episode #37 Here (MP3)