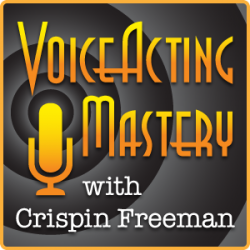 VAM 029 | Q & A Session 01 – Vocal Health & Voice Matching
Welcome to episode 29 of the Voice Acting Mastery podcast with yours truly, Crispin Freeman!
As always, you can listen to the podcast using the player above, or download the mp3 using the link at the bottom of this blog post. The podcast is also available via the iTunes Store online. Just follow this link to view the podcast in iTunes:
http://www.voiceactingmastery.com/podcast
For this episode, I thought I would play some of the voicemail questions that I've been getting from my listeners and do my best to answer them. For those who don't know, in the last episode I gave out a phone number where you can call in and leave me a question as a voicemail. From time to time, I'll pick the most relevant questions I receive and answer them here on the podcast.
For this round of Q & A, I answer two of my listeners, Kimberly from Bernie, CA and Wes from Palm Springs, CA.
Kimberly asks me how she can know when it's safe to use her voice again after she's recovered from being sick.
Wes asks me if I could give him some tips and tricks for how to do voice matches.
I think you'll find the answers very helpful.
As a reminder, the number where you can call in and ask your question is:
323-696-2655.
Please don't forget to include your first name and what city in the world you're calling from. I'm looking forward to hearing from you!
If you'd like to purchase the tea I recommend, you can find the Throat Coat Tea on Amazon.com
.
To rip audio from DVDs you own, you can download the Handbrake program here.
Thanks for listening!
Download Voice Acting Mastery Episode #29 Here (MP3)