VAM 025 | Interview with Melanie Chartoff about Improv, Part 3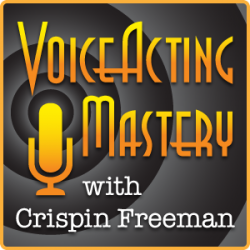 Welcome to episode 25 of the Voice Acting Mastery podcast with yours truly, Crispin Freeman!
As always, you can listen to the podcast using the player above, or download the mp3 using the link at the bottom of this blog post. The podcast is also available via the iTunes Store online. Just follow this link to view the podcast in iTunes:
http://www.voiceactingmastery.com/podcast
This is the third and final part of an interview with my friend and improv teacher, Melanie Chartoff.
As we wrapped up our time together, Melanie and I discussed many interesting topics including:
The deep interrelationship between improv and scripted acting.
How improv helps keep a scripted performance feeling fresh, as if you're creating that performance anew every time.
The importance of getting past the words of a script and instead basing your performance on the inspiration of a thought or a feeling.
The need to have a childlike state of mind when you're acting and to leave all judgement behind in order to fully play pretend.
At the very end, Melanie was kind enough to share with me a personal technique of hers for alleviating fear when she finds herself in an acting situation that makes her feel nervous. I think you'll find it incredibly useful!
To sign up for classes with Melanie, visit Chartoff Teaching.com. I highly recommend it!
Download Voice Acting Mastery Episode #25 Here (MP3)