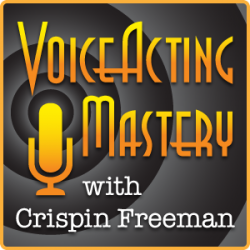 VAM 024 | Interview with Melanie Chartoff about Improv, Part 2
Welcome to episode 24 of the Voice Acting Mastery podcast with yours truly, Crispin Freeman!
As always, you can listen to the podcast using the player above, or download the mp3 using the link at the bottom of this blog post. The podcast is also available via the iTunes Store online. Just follow this link to view the podcast in iTunes:
http://www.voiceactingmastery.com/podcast
This is the second part of an interview with my friend and improv teacher, Melanie Chartoff. In it, we talk about how important it is to find your character's point of view from inside it, in order to give life to a role. Melanie also shares a three part technique for helping you develop that point of view. In order to imbue your voice with more character, you should ask yourself three questions:
What is your point of view on yourself?
What is your point of view on the world around you?
What is your point of view on your current situation?
By asking yourself these questions, you can begin to bring a richness and believability to your vocal performance.
We wrap up this episode by talking about how voice acting is not about hiding behind a silly voice, but about revealing who you truly are so you can make the emotional journey of your character believable.
Enjoy!
Download Voice Acting Mastery Episode #24 Here (MP3)