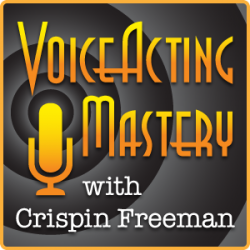 VAM 023 | Interview with Melanie Chartoff about Improv, Part 1
Welcome to episode 23 of the Voice Acting Mastery podcast with yours truly, Crispin Freeman!
As always, you can listen to the podcast using the player above, or download the mp3 using the link at the bottom of this blog post. The podcast is also available via the iTunes Store online. Just follow this link to view the podcast in iTunes:
http://www.voiceactingmastery.com/podcast
In my last podcast, I discussed the 5 Essentials for voice acting. I talked at length about the first of those essentials: the need to become an actor. I also said that of all the different acting training I have had the pleasure of experiencing, the one that helped me the most in my voice acting career was improvisational acting.
So I thought I would invite my improv teacher, Melanie Chartoff, on the podcast to talk about the importance of improv and how it relates to voice acting. Melanie has had an extensive acting career both on stage and on screen, but those of you who follow animation will probably be most familiar with her performance as Didi Pickles, the mother in the famous Nickelodeon series, The Rugrats. Melanie has taught me a lot and I think you'll benefit from her insight and experience.
Enjoy!
Download Voice Acting Mastery Episode #23 Here (MP3)