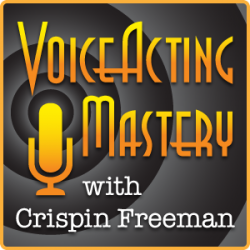 VAM 011 | Microphone Basics, Part 1 – Dynamic vs. Condenser
Welcome to episode 11 of the Voice Acting Mastery podcast with yours truly, Crispin Freeman!
As always, you can listen to the podcast using the player above, or download the mp3 using the link at the bottom of this blog post. The podcast is also available via the iTunes Store online. Just follow this link to view the podcast in iTunes:
http://www.voiceactingmastery.com/podcast
In this episode, I explain the basics of how a microphone works. I also outline the differences between the two dominant types of microphones in voice acting, dynamic and condenser microphones.
Historically, microphone technology was the responsibility of the recording engineer. It used to be that you could spend your entire voice acting career not knowing how a microphone worked as long as you knew which side of it to talk into. Those days are now gone. In the age of the internet, voice actors are expected to be able to make professional quality recordings from their home studios. A solid understanding of microphones and how they function is invaluable to understanding how to use the most important tool a voice actor has.
While there are many different types of microphone technology, there are two that have become dominant in the world of voice over:
Dynamic Microphones
Condenser Microphones
Both have their pros and cons and both are useful in different situations. Because each captures sound in fundamentally different ways, it's important to understand their nuances to use them to their best advantage.
Here are some pictures of the two microphones I mention in the podcast, the Shure SM58 Dynamic microphone and the Neumann U87 Condenser microphone: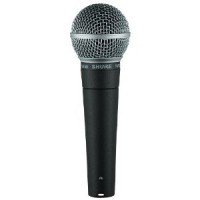 Shure SM58 – Dynamic

Neumann U87 – Condenser
If you have any questions, please post your question as a comment to this blog post. Chances are, someone else has a similar question. By posting your question here on the blog, I get to communicate with all of you at once.
Thanks for listening!
Download Voice Acting Mastery Episode #11 Here (MP3)