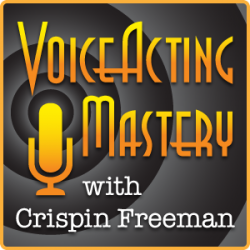 VAM 116 | The Computer Skills and Audio Knowledge You Need to Be a Voice Actor, Part 3
Welcome to episode 116 of the Voice Acting Mastery podcast with yours truly, Crispin Freeman!
As always, you can listen to the podcast using the player above, or download the mp3 using the link at the bottom of this blog post. The podcast is also available via the iTunes Store online. Just follow this link to view the podcast in iTunes:
http://www.voiceactingmastery.com/podcast
In the first episode of this three part series, I outlined the basic computer skills you need in order to be able to record professional quality audio in your home studio. In the second episode, I expanded on that subject and explained the actual process of digital recording using simple metaphors. After listening to those episodes you should have a much clearer understanding of how your computer works and how your microphone and audio interface process and record audio as digital information. If you haven't listened to the the previous two episodes in this series yet, I highly recommend that you review them both before continuing. As I conclude my discussion of this topic, I'm going to be building on the information I shared with you in the last two episodes.
In this third and final part of the series I want to talk about how to use your home recording setup to its fullest potential. I'll be revealing to you the settings that professionals use to maximize the quality of their recordings. I'll explain the differences between different digital audio formats, and I'll also be warning you about some of the most common mistakes voice actors make when recording at home so you can avoid them! As I've mentioned previously, it may be good for you to have a notebook nearby to write down the terms and ideas I'll be discussing. After listening to this series of episodes, you should have a solid foundation for understanding the fundamentals behind professional quality digital audio recording.
If you have any thoughts, thank you's or questions about this 3-episode series, please feel free to leave a comment on this blog post!
I'm also getting ready to do my next round of Q&A here on the podcast, so if you'd like a chance to have your question answered in a future episode, you can call the Voice Acting Mastery phone line at 323-696-2655. Please remember to state your first name and what city in the world you're calling from before leaving your message. Thanks for listening, and I'll see you in the next episode!
Download Voice Acting Mastery Episode #116 Here (MP3)