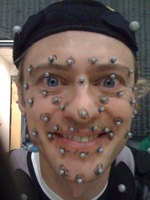 This coming weekend is San Diego Comic-Con, the largest pop culture convention in the US and probably the world! 150,000 people will descend on the San Diego Convention center to enjoy Comics, Animation and general nerdiness and geekdom.
I will there Thursday, July 21st to help promote the new video game I'm starring in, Resistance 3. Here's the panel info:
Resistance 3: Exploring a 1950s Altered America: The Continuing Creation of the Resistance Universe – Thursday, July 21st – Room 7AB 
Critically acclaimed developer Insomniac Games presents a journey through the evolution of the universe surrounding PlayStation 3's bestselling Resistance franchise. Discover the secrets behind Insomniac's vision of a postapocalyptic '50s-era America, ravaged by the merciless Chimera, and explore the human experience of struggling to survive an alien invasion when nearly all hope is lost. Learn how the team is continuing to build the Resistance canon through books and social media integration. Attendees will be treated to an first look at new game content and other surprises, with special guest appearances by members of the Insomniac team, including Marcus Smith (creative director), Kevin Grow (animation director), and Grant Hollis (art director), as well as actors from the Resistance 3 cast, including Robin Atkin Downes (Joseph Capelli) and Crispin Freeman (Charlie Tent). A Q&A with the team will follow the presentation.
This was a fascinating project to work on because not only did I voice the character, I did all the motion capture for the character as well. They didn't just capture our bodies, but they attached dots to our faces and hands to get a more complete version of us. The called it "performance capture" to differentiate it from just "motion capture". All I know is that I had a lot of dots on my face!
They also recorded our voices while were on the motion capture stage so it was like doing virtual theater! I'll be addressing the challenges of motion capture in a future podcast so stay tuned!