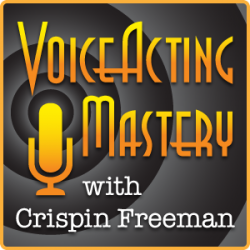 VAM 032 | Q & A Session 02 – Demos & Character Context
Welcome to episode 32 of the Voice Acting Mastery podcast with yours truly, Crispin Freeman!
As always, you can listen to the podcast using the player above, or download the mp3 using the link at the bottom of this blog post. The podcast is also available via the iTunes Store online. Just follow this link to view the podcast in iTunes:
http://www.voiceactingmastery.com/podcast
For this episode, I thought I would answer some more of the voicemail questions that I've been getting from my listeners.
For those who don't know, in episode 28 I gave out a phone number where you can call in and leave me a question as a voicemail. From time to time, I'll pick the most relevant questions I receive and answer them here on the podcast.
For this round of Q & A, I answer two of my listeners, Taylor from Bardstown, KY and Beau from Soham, England.
Taylor asks me what should she put on her first demo, original characters or pre-established ones that agents are familiar with?
Beau asks me what do I do when I have to play a character and I don't understand the story?
I think you'll find the answers very helpful.
As a reminder, the number where you can call in and ask your question is:
323-696-2655.
Please don't forget to include your first name and what city in the world you're calling from. I'm looking forward to hearing from you!
Thanks for listening!
Download Voice Acting Mastery Episode #32 Here (MP3)