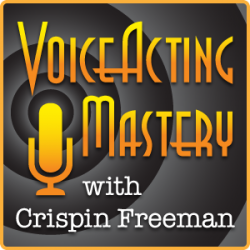 VAM 097 | Interview with Phil LaMarr, Part 5
Welcome to episode 97 of the Voice Acting Mastery podcast with yours truly, Crispin Freeman!
As always, you can listen to the podcast using the player above, or download the mp3 using the link at the bottom of this blog post. The podcast is also available via the iTunes Store online. Just follow this link to view the podcast in iTunes:
http://www.voiceactingmastery.com/podcast
This is the fifth part of my interview with the amazing Phil LaMarr.
Phil has played major roles in such animated shows as Futurama, Justice League, Star Wars: Clone Wars and Samurai Jack.
In the last episode Phil outlined the unique challenges that any minority actor has to face when trying to build a career in the entertainment industry. It can be difficult to know how to present oneself as a minority actor in a primarily caucasian storytelling environment like animation. Phil has learned to succeed in this environment with skill and grace, and I can't thank him enough for sharing his experiences and insight with all my listeners.
In this, our final episode together, Phil actually describes the thought process he went through when making decisions about how to portray the voice of the Jon Stewart version of Green Lantern for the Justice League animated series. This is a rare look inside the head of a talented voice actor as he determines how best to bring a character to life. I personally find it fascinating and enlightening to hear what character traits Phil blended in order to get the voice of Jon Stewart just right.
Get ready for some priceless words of wisdom, 'cause here they come!
Download Voice Acting Mastery Episode #97 Here (MP3)